This article was first published on the 8th June 2021
As the wind industry matures and the market for external blade inspections continues to expand, automating this essential task is crucial to cost effectively gaining the insight needed to guide maintenance activities and optimize energy production. At Clobotics, we believe that only by investing in automation on the front end and the back end, can customers gain the highest levels of insight, service and quality as they seek to understand what is happening with their assets.
Data collection with Clobotics IBIS™
Many inspection providers today offer automation of data collection by a camera equipped drone flown on site by a pilot that manually maneuvers the drone around the turbine rotor and takes photographs of the blades. While this is a significant step forward in safety, cost and quality from previous visual inspection methods, it falls short of what is possible.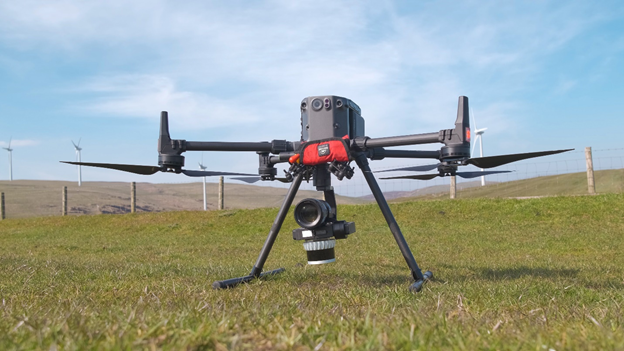 Clobotics has invested for over three years in developing our Clobotics IBIS™ inspection drone. We have selected components (camera, lidar, onboard computer, gimbal arm etc.) that are perfectly suited to the task and the system is specifically programmed for the job of inspecting wind turbine blades. Why does this matter?
It matters because it enables our Drone as a Service offering where we train customers to do their own inspections using our equipment. The system is literally designed to inspect a turbine at the push of a button. An operator is still required in case something goes wrong, but the knowledge required to use the system is greatly reduced. This automation also reduces operator fatigue allowing them to inspect more turbines in a day without risking errors caused by loss of concentration.
IBIS™ also delivers higher image quality because its programming and additional sensors allow it to safely fly closer to the blades than a manually flown drone. In our experience, manually flown drones will average 1 pixel per millimeter and top out at 1.5, while IBIS™ delivers images that average twice that resolution and top out at 3.5 pixels per millimeter. IBIS does flight planning on the fly, eliminating the time required to program waypoints in manually. And finally IBIS™ delivers a very consistent, high quality data collection process eliminating the need to re-inspect because of data rejection.
Data analysis with Clobotics IRIS™
Similarly, there are back end systems available today that will host the image data and enable customers to browse the data and perform image annotation tasks themselves. Others will offer experts to review the data and identify defects on behalf of the customer.
Clobotics extends the automation through our IRIS™ system by deploying machine learning models that scan all the inspection images and automatically locate, identify and categorize defects and findings.
Our machine learning models are built by our experienced blade specialists and trained on millions of expert-reviewed blade defect examples.
The biggest benefits gained by using machine learning are:
Turnaround time can be greatly accelerated.
Findings will be more consistent because the machine will always interpret the visual evidence the same way.
The risk of missing something because of human factors like fatigue or lack of concentration is eliminated.
Putting it all together or why 1+1=3
Designing the data collection and analysis as an integrated system is what unlocks the highest levels of performance and quality possible. The only way to achieve a fully automatic process is for the analysis system to know exactly what format of data to expect from the data collection system. And a fully automatic system from pushing the button to start the inspection to receiving the findings report will enable turnaround times for receiving a complete blade damage overview measured in minutes or at most hours.
For customers operating offshore where mobilization costs are high or in tight weather windows where time is of the essence, we expect this to be the inspection service of choice. Over time, the whole industry will demand this high level of quality and speed at a low cost. That is why we are investing today, on both the front and back end, to make it a reality.
Lennart Kuhlmeier is Principal Blade Engineer at Clobotics.
Other Point of View Posts:
---